The descent of the Vallee Blanche is a unique experience, with 24 km of seracs, granite pinnacles and sparkling ice walls. It starts from the 3462 meters of Punta Helbronner and with the right snow conditions it goes all the way down to 1037 mt of Chamonix Village, all in ski or board! You will long remember this exciting journey in the heart of Mont Blanc, a truly not to be missed experience .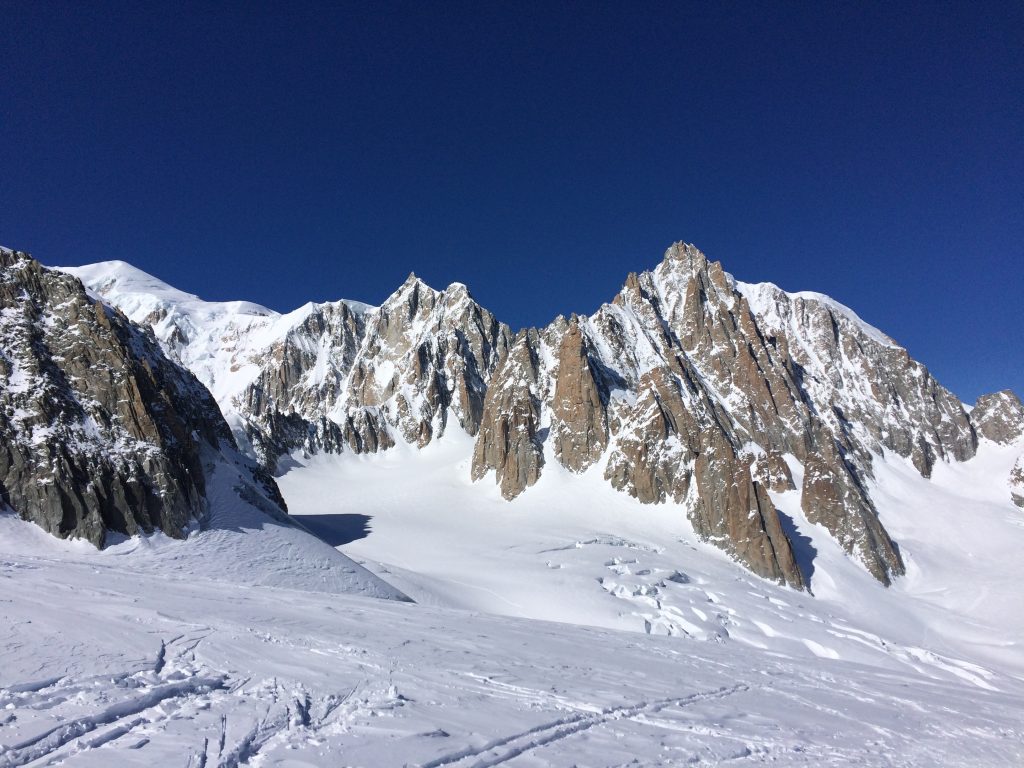 € 130 per person – minimum 6 participants (extras excluded)
€ 160 per person – minimum 3 participants (extras excluded)
PRIVATE NEGOTIATION for 1 participant
Day 1
Meeting at the Skyway cableway of Courmayeur and climb up to Punta Helbronner. Conditions allowing, descent to Chamonix; with insufficient snow cover in the lower part, descent by ski and little hike to Montenvers station and to Chamonix by train. Return to Courmayeur by bus.
EQUIPMENT REQUIRED
Complete ski equipment, highly recommended freeride ski and boots. ARTVA, shovel, probe. Recommended airbag backpack. Ski clothing
TYPE
Freeride skiing
Easy mountaineering – Difficulty PD – (not very difficult)
ELEVATION GAIN
22 km and more than 2300 mt of downhill skiing,
150 meters uphill by foot
WHERE
Aosta Valley – Graian Alps – Courmayeur – France – Chamonix
MAIN EXPOSURE
north
DURATION
1 day
RECOMMENDED PERIOD
February-April
NUMBER OF PARTICIPANTS
From 1 to 6 for each Alpine Guide
REQUIRED LEVEL
Good physical training and average ski level
ACCOMPANYING PROFESSIONAL
UIAGM certified mountain guide
Guiding by Alpine Guide for the entire duration of the program
Bus ticket back to Courmayeur
Lift ticket to P.ta Helbronner;
Montenvers train € 27.50 per person (the use of the train to get to Chamonix depends solely on snow conditions);
cost of the Alpine Guide train ticket from Montenvers (€ 16.50) must be divided among the participants;
Travel to the meeting point
Personal extras (drinks etc.)
Everything not indicated in the included section