Canyoning, Rio S.Lucia – Liguria
The full version of Rio S. Lucia will leave the taste of true canyoning in your mouth! A few kilometers from the coast of the Riviera, this beautiful route presents a succession of slides and jumps that will make you passionate about these adventures.
Those who want to deepen their visit to the valley, undoubtedly deserve to go back to the Colle di Nava where a series of fine restaurants allow you to savor the typical cuisine of Liguria and Piemonte.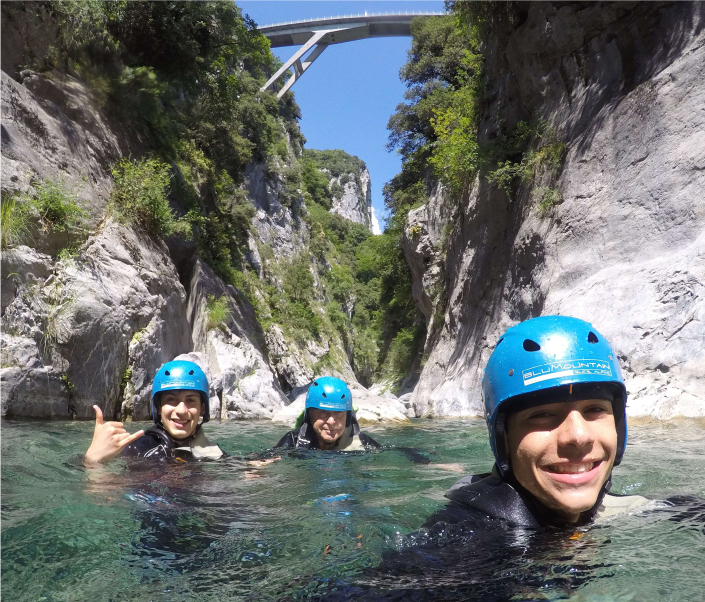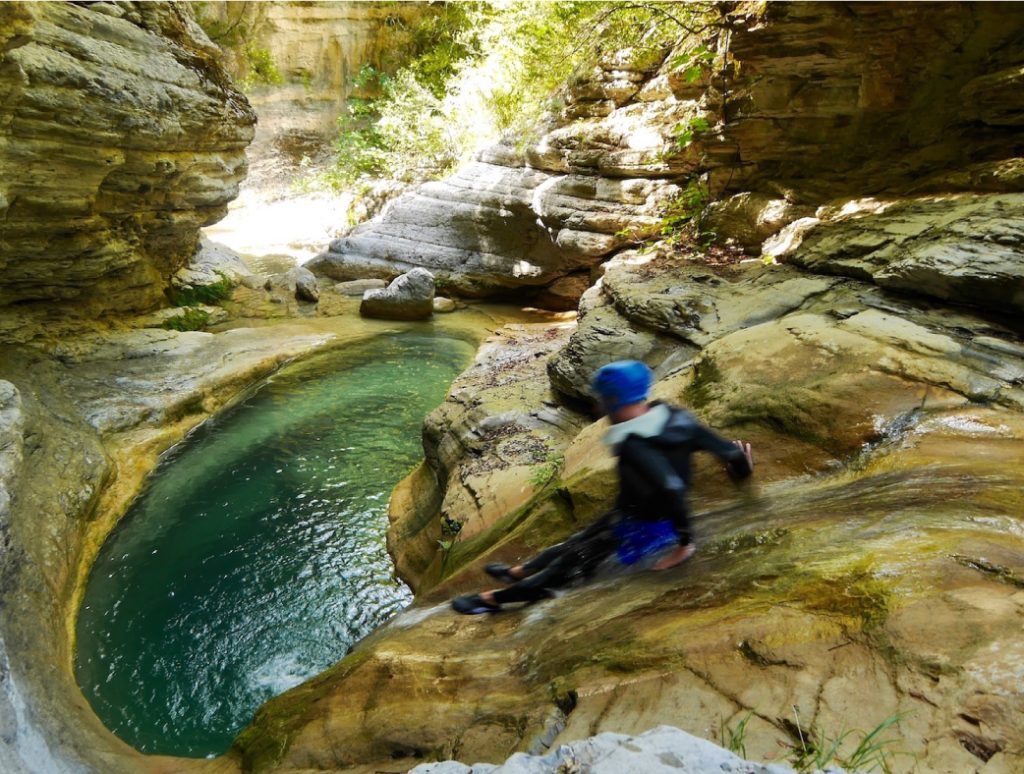 1 Person      € 360,00
2 Persons      € 180,00/p.
3 Persons      € 130,00/p
4 Persons      € 110,00/p.
5 Persons      € 90,00/p.
6/8 Persons  € 85,00/p.
Meeting at the Albenga motorway exit at 9:00 am – transfer with your vehicle (the guide will precede the group on Pick-up with the technical equipment) to the expected location near the Rio. At the parking the participants will be provided with everything
the necessary equipment, will follow a briefing for
safety techniques and progression procedures. With short approach by foot on the downhill path you reach the entrance of the canyon where the descent will begin. The descent provides walking paths along the stream, swimming sections and diving (not mandatory) where allowed (in vertical position only) . On the highest waterfalls or where it is not possible to dive, the guide will set up a rope belay system. Ended the path in the canyon, with
very short walk on asphalt road the group returns to the car park.
The activity ends approximately at 14:00 to return to Finale Ligure for 16:00.
TYPE
Excursion along a particularly encased stream – with various types of obstacles to overcome
along the descent (Rock slides or waterfalls of various heights and lengths, climbing over
blocks and overcoming of restrictions as well as various swimming sections.
ALTITUDE DIFFERENCE
Minimum altitude difference and downhill. The actual activity involves a vertical drop in
descent of about 90 m which can be overcome in about 4 hours.
PREVALENT EXPOSURE
Activity carried out in a closed environment, rarely exposed or reached directly by the sun.
DURATION
Half day activity which requires more than 6 hours in total, plus transfers.
WHERE
Western Liguria – Arroscia Valley – Albenga / Imperia.
RECOMMENDED PERIOD
Every day from May 15th to October 15th from Monday to Sunday.
NUMBER OF PARTICIPANTS
N. maximum participants allowed: 8 people.
LEVEL REQUIRED
Minimum general basic training.
ACCOMPANYING PROFESSIONAL
UIAGM Alpine Guide registered in the Professional Register, with Canyoning specialization.
RESERVATION
Mandatory within 10 days from the date scheduled for the activity.
CANCELLATION AND REMODULATION
The activity is subject to cancellation and remodulation due to bad weather and also due to unsuitable river flow conditions, subsequent to thunderstorms or for impending thunderstorms, even if the weather conditions at the time of the planned performance may be suitable. The booked activity is valid for the entire canyoning season. In case of bad weather another alternative date or program will be proposed.
Guiding by Alpine Guide for the entire duration of the program
Transfer from meeting point to starting point and return
Al the personal and collective equipment
Travel to meeting point
Sport shoes for canyon descent
Personal extras
Everything not indicated in the included section