Alpi Liguri 2 days climbing – Triora e Pietravecchia
Valle Argentina and Nervia, destination of this program, are typical valleys of the Ligurian west hinterland, starting from the sea and winding towards the mountain and they are both particularly rich in history. Both converge in the Toraggio / Pietravecchia limestone group, mountains reaching 2000mt of altitude just 20 km away from the sea. The whole area is particularly well-known for three reasons: the war infrastructures of the 'Vallo Alpino' and, above all, the "Sentiero degli Alpini", a suspended path often dug out of the rock overhanging the valley below; the spring flowering: in the same excursion you can observe the three varieties of lilies of the Alps; the typical cuisine, that here gives its best: goat and beans, the ciapazoi with bruzzu and the stockfish in the particular version of the Brandacujun.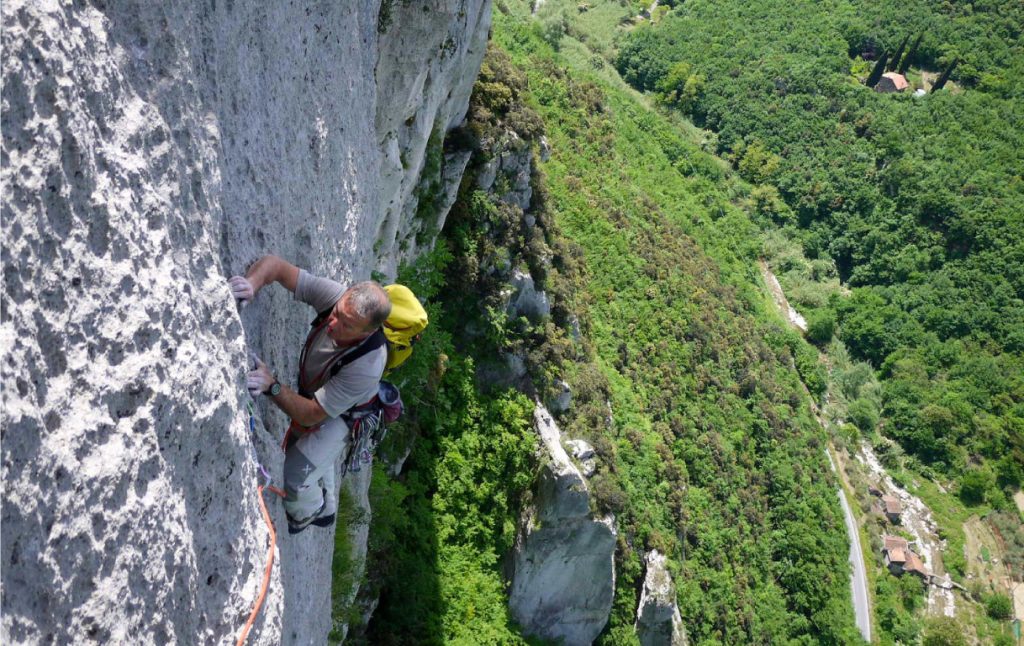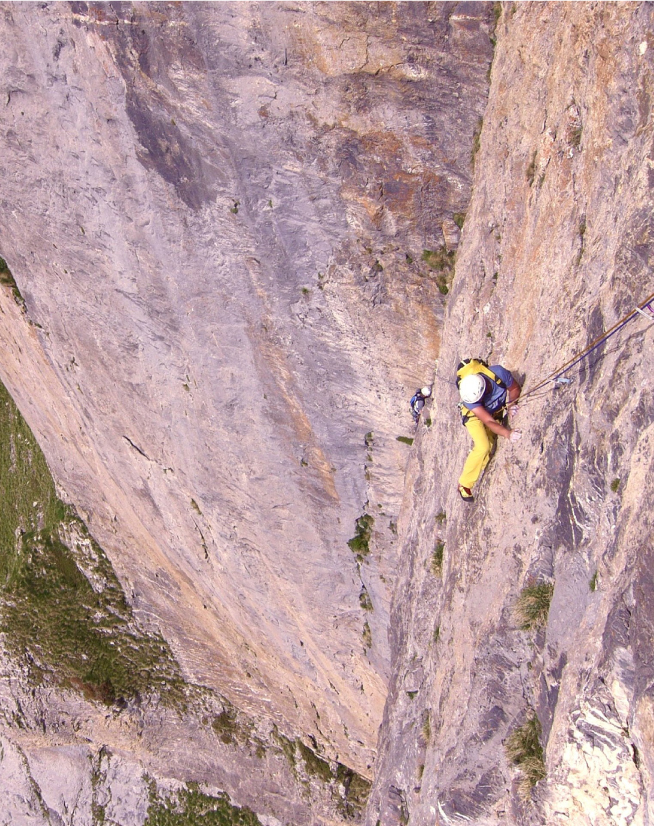 Climbing
,
Mountain climbing
1 Person     € 1020,00
2 Persons     € 610,0/p.
Day 1
Meeting in Finale Ligure Borgo (SV) – P.zza P. Testa or at the Arma di Taggia (IM) motorway exit – transfer to Triora loc. Loreto.
Approaching the wall (first downhill 150 m difference in height) then wading the Rio Argentina you reach the wall (200 m difference in altitude – about 45 min. – overall) Route climbing 200m approximately 5/7 lengths and descent on the path. Reached the car
transfer to Colla Melosa 1540 m for dinner with typical dishes and overnight at the Locanda del Colle.
Day 2
After breakfast at 8:30 am short transfer by car on a dirt road to reach the starting path that with almost flat course leads to the wall of Pietravecchia in about 40 min. – Climbing 5/6 lengths route and belay descent or path depending on the chosen route. Return to the car on the same approach path for the afternoon.
EQUIPMENT REQUIRED
Mountain clothing including long sleeved fleece, trousers
climbing / mountaineering, gore-tex shell, gloves, hat, sunglasses, sunscreen.
Light hiking boots or approach sports shoes, climbing equipment
staff (shoes, harness, helmet) .. The missing equipment can be supplied on request.
TYPE
Sport climbing (mostly protected by fixes) on limestone with vertical plaques.
DIFFERENCE
Uphill altitude difference 200 m on the first day, 100 m on the second
PREVALENT EXPOSITION
South east the first day – South the second.
DURATION
2 days of activity with one night in a hotel / inn.
WHERE
Western Liguria – Argentina Valley / Nervia – Imperia.
RECOMMENDED PERIOD
Every day from June to September from Monday to Sunday.
NUMBER OF PARTICIPANTS
Maximum number of participants allowed: 2 people per guide.
LEVEL REQUIRED
Good basic training and good climbing level.
Medium difficulty courses – French scale from grade 5c / 6a.
ACCOMPANYING PROFESSIONAL
UIAGM Alpine Guide registered in the Professional Register.
BOOKING
Mandatory within 30 days. from the date scheduled for the activity.
CANCELLATION AND REMODULATION
The booked activity may be canceled for meteorological reasons, in which case it may be postponed or changed with an alternative program.
Guiding by Alpine Guide for the entire duration of the program
All the missing personal climbing equipment. (climbing shoes, harness)
Use of all technical safety equipment (ropes, carabiners, quickdraws…)
Guide transfers from meeting point to starting point
Half-board at guest-house + packed lunch for second day
Travel to meeting point
Personal extras
Everything not indicated in the 'Included' section